If you are a serious Triathlete or Cyclist, then i strongly recommend you take a look at COMPEX for your training and recovery needs…

Back in 2012, i had just returned home after racing Roth (Ironman distance race in Germany consisting of a 3.8k Swim, 180k Bike, 42k Run). I had performed well, breaking a new PB (9hrs 36min) at the time and had the usual DOMS relating to such an event.
The following Sunday (one week later) I had an entry in the London Triathlon. This was an Olympic distance event (1.5k Swim, 40k Bike, 10k Run) but as you can imagine, in order to perform well, id require fresh legs…Well this was not the case and i travelled down to the race with the mindset of 'Just Competing' and enjoying the event.
The day before the race I was heading over to registration, which was located within the event exhibition hall. Now I have been in and out of many an 'Expo' and usually i try and keep a low profile but this time the COMPEX stand nabbed me and soon had me lying down on a beanbag and strapped up to one of their units. It is important to note that only 2 weeks prior to this a good friend of mine (Dani Trinca) had called around to my house showing me his new COMPEX unit he had just received. Dani and i had a brief test run of the product…but nothing in the way of a proper test. I guess it was due to this that i was more receptive when COMPEX stopped me in the Expo.
Anyway as I was lying there the COMPEX representative was asking me some questions and it was decided that i would arrive 41mins before my race the following day for a WARM UP session using COMPEX and then after the race i would return for a RECOVERY session. Why 41mins??? Well the program lasted 40mins and the start line was 1min away…
I have to note that after this first session using COMPEX i had noticed a remarkable improvement in the way my legs were feeling. The Ironman distance race, only 6 days earlier, had almost been flushed out of my leg muscles and i actually started feeling confident.
Race morning and i was, as promised, at the COMPEX stand early and ready for my WARM UP session. I was quickly patched up and programmed in for a 40min WARM UP…while lying on a beanbag.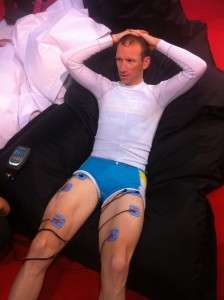 The 40mins flew by and when the patches were removed i can remember my legs feeling totally energised. A feeling i had never felt before in fact. Roth had been removed from my legs and i was ready to race. I ran to the start line and muscled my way to the front of the swim pack.
After a solid swim, I hit the bike leg hard and nailed a 58min 40k split. I jumped off the bike and after i was out of transition, i knew I was going to Win. Call it cocky, confident…I call it Compex as my legs were totally firing.
Well I WON! Not just my Age Group…But the whole event. (Results here)
I had WON the largest Triathlon in the World. I have to say i felt AWESOME. I got to the run and i was running on air. I totally smashed it! I can remember the weather on the day was wet and the course was long (results show this) but this didn't stop me. I crossed the finish line punching the air and kept running to the COMPEX stand as I was keen to get the RECOVERY session under way. Sure enough i was patched up again and back on the beanbag undergoing my recovery session. I finished and when i went for a walk i was amazed how good i was feeling. It was as if someone has 'Quick Realised' my old legs off me and 'Snapped on' brand new ones. I had raced Roth 1 week prior and then backed up an Olympic Distance Triathlon Win 7 Days later.
I can honestly say that if it wasn't for Compex I would not have won this race. Complex completely flushed out the 140mile mussel fatigue from the previous week and gave me the confidence to go hard. Ive been using COMPEX 3-4 days a week every since.
Since moving to Perth Australia I pursued COMPEX with the view to working with the company in some way. Im now the WA distributor for this AWESOME product and have total confidence in bringing it to you.
We offer a Try-Before-You-Buy service and if you want to have a go and test a unit out then get in touch and get your next training partner working for you!